BODY SHOP AND COLLISION CENTER
INFINITI of Dayton Collision Center is a
Preferred Provider and INFINITI Certified Collision Center
Did you know? Less than 6% of dealers report having their own dedicated collision repair facility. The collision repair center at INFINITI of Dayton has been a dedicated Infiniti Body Shop since 1990. To the best of our knowledge, we are the only shop in southwestern Ohio to have *computer verified welding* with a printed report.
Computer Verified Auto Body Welding in Dayton, Ohio
Why is this important to you?
Because all modern vehicles are built on a unibody. The only way to reconstruct a unibody vehicle is through welding. Some studies have shown up to 80% of all welds are bad welds. Our welding equipment eliminates that worry. Unlike other shops which assume the welds are good, our machine will not allow the welder to go on to the next weld until it has been computer verified as a sound weld.
Your investment and safety are better ensured by having your collision repair done at INFINITI of Dayton.
This is a big deal, a very big deal!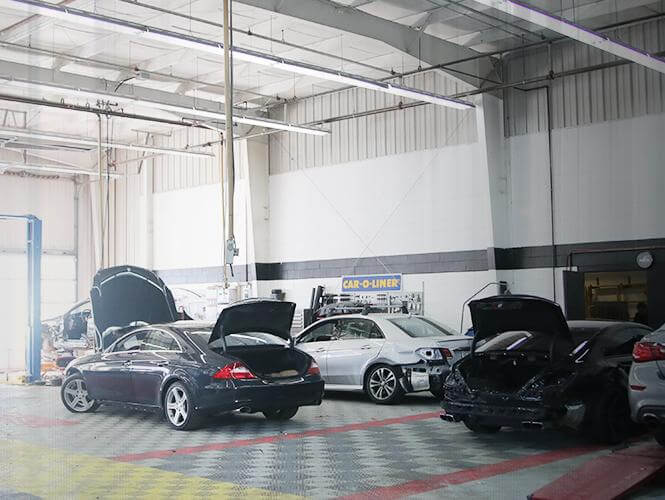 We are the state of the art in auto body repair!
* Computer Verified Welding *
* Computer Verified Alignment *
* State of the Art Car-O-Liner Frame Repair *
* Come to Us First and Tour Our Collision Center *
* Free Estimates *
* Premium Work at Standard Rates *
Contact our body shop at 937-434-8877
Extended hours for your convenience
Monday through Friday: 8 am - 5 pm
State of the Art Auto Body Repair to Cincinnati, Columbus, Cleveland, and Springfield
Whether your vehicle has a few scratches, hail damage, or been involved in a major accident, our Collision Center here at INFINITI of Dayton. has the tools and technology to get you back on the road looking like new. Regardless of which model, or other make or model car, truck, or SUV you have, INFINITI of Dayton is here to serve Dayton as well as Cincinnati, Kettering, Springfield, and Middletown areas.
Here at the INFINITI of Dayton Collision Center we work hard to provide the best customer service, from competitive pricing to extended hours of operation we strive to making your experience as convenient and pleasant as possible. Stop by our Collision Center today to get an estimate on your automotive maintenance, or give us a call at: (800) 724-9567.