The Luxury Body Shop at INFINITI of Dayton
Did you know that less than 6% of dealers report having their own dedicated collision repair facility? Unlike many luxury car dealerships, INFINITI of Dayton has a state-of-the-art body shop serving Dayton, OH. Rather than outsource our collision work to a third party, we have built a collision center equipped to repair your INFINITI or other luxury vehicle.
In fact, several of Dayton's other luxury brands choose INFINITI of Dayton's body shop to handle collision repair for their customers. Though we are an authorized INFINITI dealership, our expert technicians are experienced with all luxury makes and models. When you drive a luxury vehicle like an INFINITI, you don't want to take it just anywhere. You want to call INFINITI of Dayton's luxury body shop at (937) 439-4379.
Our Body Shop Chooses OEM Parts
A lot of Dayton car owners assume that going to the dealership for repairs means they will get official manufacturer parts. However, that is often not the case. And insurance appraisals will normally be prepared based on aftermarket prices. This can lead to a substandard result, and let the insurance company off the hook.
At INFINITI of Dayton's luxury body shop, we use official OEM parts by default. And if insurance is paying for the repair, we handle getting the additional money to cover the more expensive, genuine parts. Using OEM parts may not be an option 100% of the time, and we will clearly communicate that with our luxury body shop customers. But for the body shop staff at INFINITI of Dayton, we pride ourselves on producing the absolute best result for each and every customer.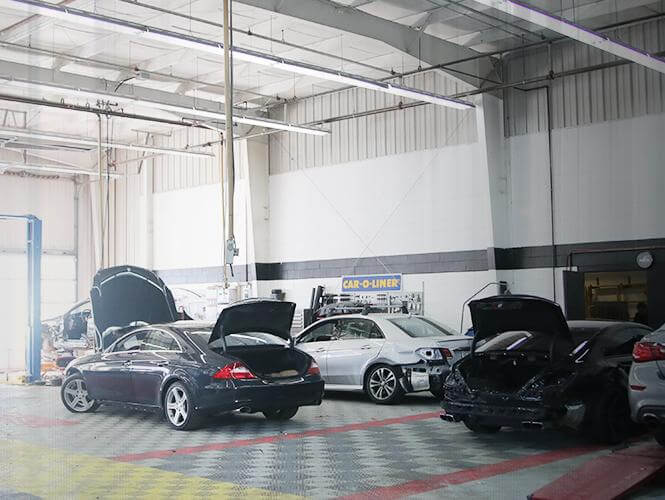 Luxury Car Repair, Mainstream Prices
When looking for a body shop, many Dayton car owners are concerned about the cost. That is especially true if the repair isn't being paid through insurance. INFINITI of Dayton's luxury body shop gives you premium results, but at mainstream prices. Our Ohio customers can rest assured they are getting a competitive quote, with no unnecessary charges.
If you have been looking for a body shop that works professionally, transparently, and affordably, you've been looking for INFINITI of Dayton's luxury body shop. Call us at (937) 439-4379
Get an Appraisal - No Appointment Necessary
Needing to repair your vehicle after an accident is stressful enough. Having to make an appointment and fit it into your schedule just to get a repair quote just seems unnecessary. That's why INFINITI of Dayton will take a look at your vehicle on your time.
If our luxury body shop is open, you can bring your vehicle in. We treat our customers like VIPs, and invite you to call us at (937) 439-4379, or write to us with any questions you have about getting collision repair for your vehicle.
Your Experience is Our Priority
Whether your vehicle has a few scratches, hail damage, or you've been involved in a major accident, the luxury body shop at INFINITI of Dayton has the tools and technology to get you back on the road looking like new. We also have transportation on-site, making it easy to get back to your day even if your car or SUV is in for repairs. Regardless of which make or model of luxury vehicle you drive, INFINITI of Dayton is here to serve all Dayton drivers, as well as the Cincinnati, Kettering, Springfield, and Middletown areas.
Here at the INFINITI of Dayton's collision center, your experience is our priority. We work hard to provide VIP customer service, competitive pricing, and extended hours of operation for your convenience. Stop by our luxury collision center today to get an estimate on your automotive maintenance. You can also call us or fill out the form below. We are Dayton's trusted partner in luxury car repair, and we're here to provide the luxury service you deserve.