INFINITI Cars And SUVs At A Dealer Near You
When searching for a luxury car or SUV in the Dayton area, INFINITI is one of the first brands that comes to mind. With eye-catching styling, lots of luxury features, and inspired driving dynamics, INFINITI cars and SUVs help set the standard for luxury, and value, right here in Dayton. Centerville buyers choose INFINITI of Dayton for our excellent selection of luxury vehicles, and for the luxury customer experience they get at our conveniently located dealership.out more!Find out why so many Dayton shoppers are choosing INFINITI for their next car or SUV.
INFINITI Has Something for Everyone
Centerville buyers choose luxury INFINITI vehicles for a wide range of reasons. Some want a luxury sport sedan to make the drive to work more exciting, while others want a large, luxurious SUV to keep their family comfortable and safe on the road. While the unique styling of INFINITI cars and SUVs is enough to catch their attention, it's when they find out how much an INFINITI has to offer compared to the competition that they realize they've found the luxury vehicle they were looking for.
INFINITI Cars
Looking at the INFINITI Q50, for example, Centerville buyers will find that it offers more standard equipment and better performance than some of its European luxury competitors, but at a much lower starting price. That's helped make it a favorite among professionals commuting to Dayton that want a compact luxury sport sedan that's fun to drive and stylish. For those who want a larger cabin and midsize sedan proportions, the Q70 is a luxury car that's hard to pass up. By offering more for the money than other luxury brands, and serving up impressive performance and style, INFINITI's cars have set a new standard in Dayton for luxury.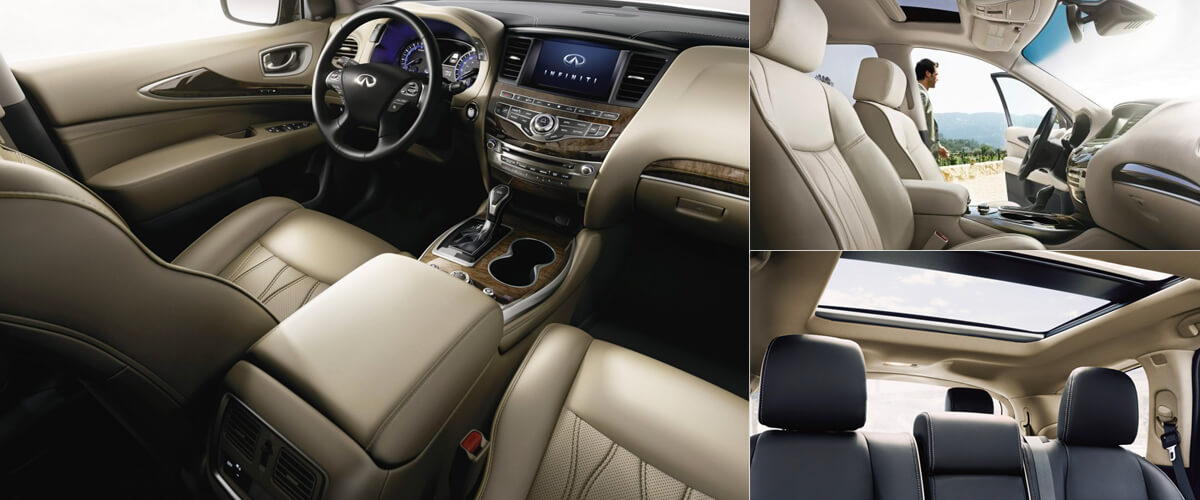 INFINITI SUVs
When it comes to crossovers and SUVs, INFINITI's lineup has proven to be one of the most popular and best-loved in Ohio. Employing advanced technologies, luxurious cabins, and sporty performance, INFINITI SUVs turns heads on the road and in the reviews.The compact crossover of INFINITI's SUV lineup, the QX50, made waves on its release not only due to its sumptuous luxury, but also its status as the first consumer vehicle to make use of Variable Compression Technology. This technology optimizes the engine's compression ratios in real time, maximizing torque and power delivery. Compared with a specially designed CVT, the INFINITI QX50's engine maximizes efficiency while providing smooth power. This is truly the future of automotive technology, and it comes in a stylish, luxurious package that only INFINITI could provide.The INFINITI QX60, meanwhile, is INFINITI's flagship luxury SUV. Our Dayton customers love the QX60's combination of interior comfort, style, and sporty performance. This is a luxury SUV in every sense of the word, employing advanced automated driving and safety technology, making your commute or road trip a relaxing experience. And like INFINITI's other vehicles, even a well-equipped QX60 comes in well under the price point of other luxury SUVs in its class.But for large families or moms who expect to be ferrying the team to soccer practice, nothing compares to the INFINITI QX80. With a roomy, three-row seating arrangement, the latest in technology, and powerful engine options, the QX80 is the INFINITI SUV with the imposing yet elegant silhouette on the road. With its luxurious cabin and latest in safety & convenience tech, the INFINITI QX80 lets parents drive with confidence, knowing their family is protected and cozy in its premium leather seats.
All This and More at INFINITI of Dayton
INFINITI of Dayton in Centerville is the area's #1 destination for INFINITI cars and SUVS. Offering not only a great selection of luxury sedans and SUVs, at INFINITI of Dayton we've also built our reputation on luxury service and amenities. If you're looking for an INFINITI dealer near you, there's no better place to go than INFINITI of Dayton in Centerville, OH.Check out our inventory, and conveniently schedule a test drive of any of our INFINITI cars and SUVs. Our staff is here to assist you with professionalism and a welcoming attitude, so don't hesitate to visit your new INFINITI dealer.