INFINITI SUV Lineup Comparison – QX50, QX60, QX80
When it comes to luxury SUVs, the INFINITI SUV lineup offers a combination of versatility, luxury, performance, and style that is hard to beat. Covering the range of desirable luxury SUV and crossover configurations, INFINITI's SUVs give Dayton shoppers what they're looking for in a luxury SUV.
From the compact, innovative QX50, to the feature-filled three-row QX60, to the large, luxurious QX80, each member of INFINITI's SUV lineup offers Dayton shoppers an impressive array of luxury features and performance, at a much more competitive price point than their European counterparts.
Below, we're going to take a look at each of the SUVs in INFINITI's exciting lineup.
The INFINITI QX50
At the heart of the  INFINITI QX50 is its innovative Variable Compression Technology. A first of its kind, this technology allows the QX50 to maximize power across the range while at the same time improving efficiency. And the numbers don't lie. The 2019 QX50's 2.0l turbo engine provides 268 horsepower while still managing 27 mpg in combined driving. This engine is paired to a specially tuned CVT designed to maximize the benefit from its new engine. Combined with a comfortable suspension and superb noise isolation, the QX50's confident power delivery makes for a luxurious drive.
The interior is also packed with luxury features, including optional quilted leather & suede seats, dual-screen infotainment system, and excellent safety features. With either a two-tone or all-black interior, luxury INFINITI QX50 models combine striking design with premium build quality and materials.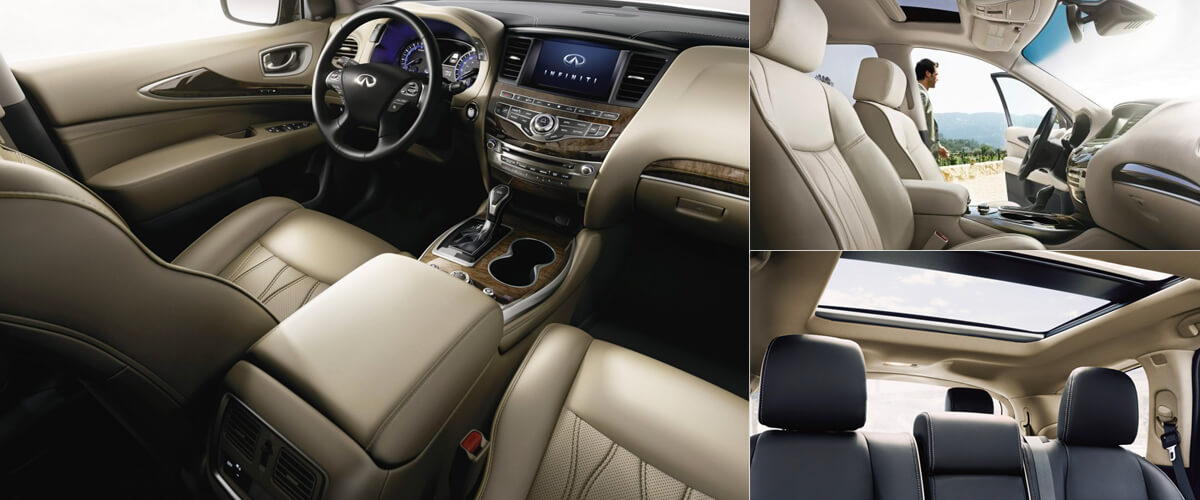 The INFINITI QX60
The INFINITI QX60 is a step up in size from the new QX50, offering three rows of luxurious seating, as well as advanced features to make the driving experience easier than ever. Like the QX50, the QX60 utilizes a powerful engine paired to a well-designed CVT, helping maximize efficiency. The QX60 has a big advantage over its European competitors, as it offers a true luxury experience at a lower cost in the Pure trim level, but can be equipped to the pinnacle of luxury in its Luxe trim level when paired with options packages.
It's clear from the design of the QX60 that it's focused on family, with features that streamline your daily life in a way that only a true luxury INFINITI SUV can. The QX60's tilt-and-slide second row makes it easy to access the third row of seats, even with a carseat installed in the second row, and advanced safety features keep Dayton families safe out on the road. If you've been looking for a three-row luxury crossover that's efficient, practical, and powerful, the INFINITI QX60 should be on your shortlist.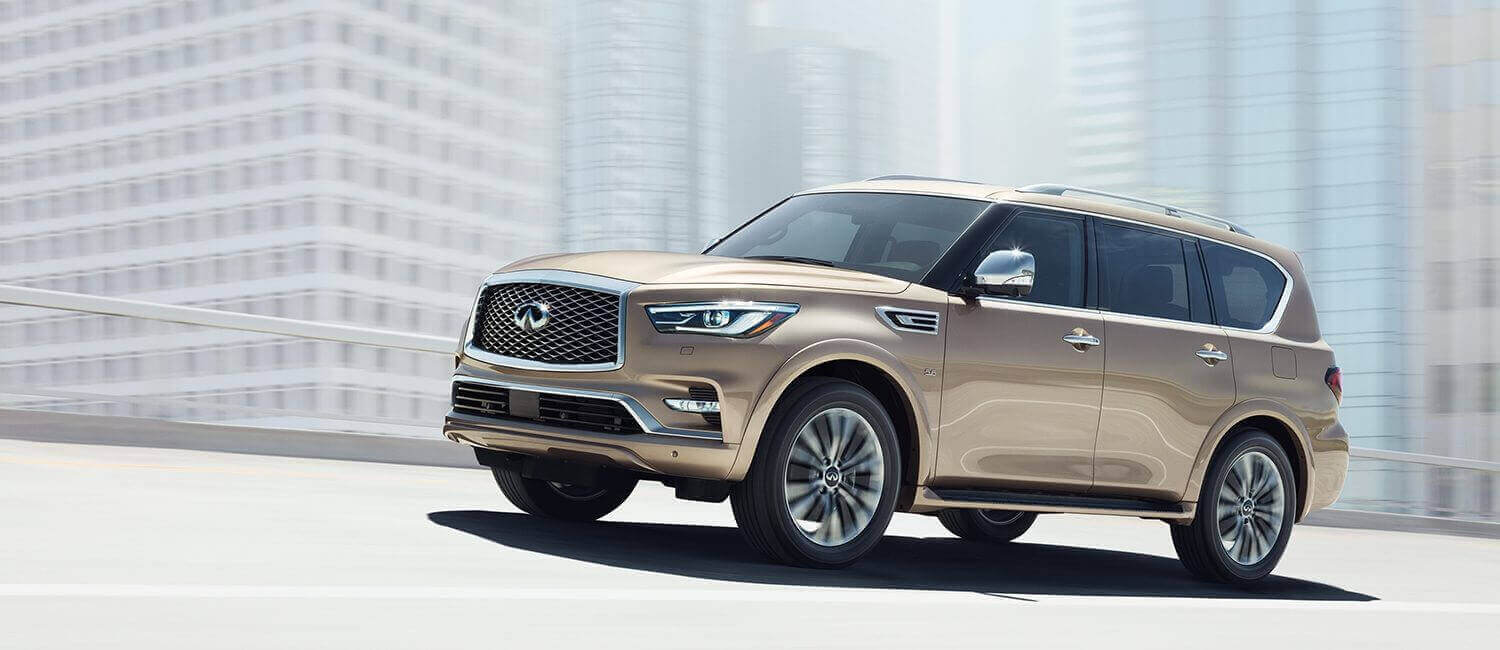 The INFINITI QX80
If you're looking for a large, luxurious true SUV that can handle anything and look good doing it, there's nothing on the road like the INFINITI QX80. With a powerful V8 that produces 400 horsepower and 413 pound-feet of torque, as well as a body-on-frame construction that allows for towing up to 8,500 lbs, the QX80 is more capably than pretty much any other luxury offering on the road today. When equipped with the 4x4 drivetrain, the INFINITI QX80 is also excellent when driving off the beaten path.
And as an INFINITI, Dayton buyers can also count on a luxurious interior and high tech features. Standard safety features include 360-degree parking camera, front & rear parking sensors, keyless ignition and entry, and forward collision warning with pedestrian detection and automatic emergency braking. There are also a wealth of other safety features available, and the infotainment system powers a standard 13-speaker Bose speaker system. The QX80 can be had with two-tone leather interior, and other luxury touches that make you feel like a true VIP.
Which INFINITI SUV is Right for You?
Each of INFINITI's luxury SUVs offers a distinct flavor, with luxurious interiors and refined driving dynamics being the common thread. Touches like quilted leather seats and standard advanced safety features have helped make the INFINITI lineup among the most popular in Dayton. But which INFINITI SUV is right for you?
If you're looking for something more compact and efficient, that doesn't sacrifice luxury, you'll want to try the newly redesigned QX50. But if you need three rows of seating, you'll be deciding between the INFINITI QX60 and QX80.
The QX60's car-like driving dynamics and luxurious interior have made it a top option for Dayton luxury buyers. But if you plan to be towing, or regularly carrying up to eight passengers and cargo, there's no competitor to the INFINITI QX80. And advanced driver aides like 360-degree camera and parking sensors have made even the largest of luxury SUVs easier to drive than ever.
Of course, the best way to decide which of the INFINITI SUV lineup is best for you and your family, is to test drive them head to head for yourself. At INFINITI of Dayton, we offer a wide selection of INFINITI SUVs, with a dealership experience to match the luxury of our vehicles. Our amenities are second-to-none, and we think you should be treated like the VIP you are. Contact us to set up your test drive, or to ask any questions you might have. We look forward to hearing from you, and to getting you out on a test drive of the hottest luxury SUV on the market today.